For people who are into dancing, salsa represents a rare treat. There are so many captivating salsa styles – Cuban, LA Style, New York Style – you're bound to get caught up in this passionate sport. It's one of the most dynamic and simultaneously sensual dances you can partake in. However, if you truly want to become good at it – you will need the right footwear. You don't want to fall during an important turn just on account of your sticky shoes, do you? Having the right mens salsa shoes will guarantee that you have the confidence needed to truly excel at this dance. Once you pick the right pair, you will feel like the dancefloor is your home – and that's precisely what we want to help you with!
What to look for in a Mens Salsa Shoe
So, before we give you a couple of specific examples on what the best mens salsa shoes are on the current market, we'll look over the different factors you should take into account while buying them.

First of all, you should make sure that the shoes you buy will allow the biggest possible freedom of movement. That's why specifically manufactured dance shoes tend to be much lighter than the average street shoe. They're also a lot more flexible because of their soles manufactured from leather or suede. Additionally, this kind of design does wonders for when you want your heel to remain firmly in place – and the rest of your foot to retain freedom of movement.

In salsa, this is greatly important for turn execution. The specific shoe you'll pick depends on the dance floor you'll be performing on. For instance, a shoe with a suede bottom will be great for a wooden floor.
You can also find a more comprehensive guide on how to choose the perfect salsa shoe here.

The Best Fit
When you're picking the shoes you'll be dancing in, it's more important for them to be comfortable then with other footwear. For instance, many people buy a model that's not particularly comfortable if it's fancy enough, and they need it for a dress party of some sort. However – dance shoes need to match you perfectly in order to be fully utilized. Particularly when it comes to the part around your ankle, they definitely need to fit you without issue.

Though, when you're choosing, bear in mind that they're bound to stretch at least a little. If you take all of this into consideration, you'll be able to achieve a more firm connection to the music that's playing, the partner that you're dancing with, and the dance floor itself.
Exact Size
Of course, if your dancing shoes are going to be the best possible fit, you'll also need to make sure they're the right size for you. With that in mind – dance shoes are usually the same size as the regular ones you wear for walking. Though, that depends on the shape of your foot. If it's somewhat narrow, think about buying dancing shoes a half of a size smaller than the street ones. Conversely, a wider foot demands at least half a size bigger shoes compared to your streetwear. You need the shoes to feel like they're snuggling your foot, but not in a painful way.
Shoe Maintenance
Naturally, it's not all about picking the best possible shoe and buying it. Once you've bought your perfect pair, it will also require regular maintenance; especially if you intend on doing a lot of dancing. So, how do you clean your dancing shoes? Well, the good news is that it's not too complicated. Most of the different models can be easily cleaned using a shoe protector or polish. And if you buy satin shoes, a solution of water and soap will be more than enough.
Where To Buy Dancing Shoes?
Lastly, we're going to tackle the issue of where you're going to find your dancing shoes in the first place. Many people are only comfortable with buying such shoes in person due to the option to try them on before paying any money. On the other hand, though – digital shops simply offer a variety no brick and mortar joint can match. For instance – Amazon has a great offering of all kinds of models, and we'll take a look at some of the best ones right here for reference!
Best Mens Salsa Shoes
TOMS Mens Canvas Classics Salsa Practice Shoe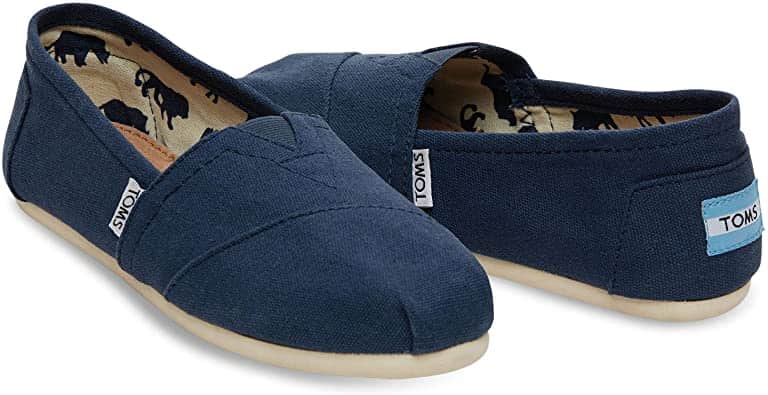 These canvas slip-ons definitely represent the pinnacle of modern design when it comes to salsa shoes. We've tried on many different pairs, and we must notice that these are one of the best men's salsa shoes in terms of both comfort and craftsmanship.
First of all, they're quite light, making them incredibly comfortable. Most notably, in comparison to other Latin shoes for dancing, you'll find that they provide more support for your foot.
They're no slouch in terms of aesthetics either, being very eye-pleasing. You'll find them to be elegant enough, with a velvety design allowing you to pair them with any kind of club-style wardrobe choices. Their looks aside, though – we mostly appreciate them because we value when a design is clearly well-thought out. If you invest in these, they're guaranteed to last you for a long while.
PUMA Men's Sneaker
Though a sneaker may not seem like an obvious choice for salsa shoes, there's no denying that they're the most comfortable and versatile choice for any kind of athletic movement; which salsa definitely is.
These Puma sneakers are not only insanely good and practical for during intense training lessons, but they also go well for a casual night out dancing. These sneakers can also be worn on a night out, depending on where you live in the world and the Salsa bar venue. For example, if you're in Cuba or Colombia, the bar dress code is relatively casual, so you'll fit right in.
This Puma sneaker represents a modern breed between an old-fashioned salsa shoe and a sports sneaker. That's a pretty versatile choice and an economically sound investment – seeing as you'll be using them for both a walking shoe and a dancing one.
Plus, you can also use it for your other athletic activities, if you partake in some. The synthetic bottom means that the sole won't be wearing out as fast as with some other shoes with different materials.

Men's Breathable Salsa Dress Shoes
People from California, and more specifically Los Angeles, will undoubtedly be familiar with this well known style of mens salsa shoes. If you've ever been to a salsa congress in California, you know that they're the most popular footwear choice there. This is because they tend to go great with a wide variety of sunglasses and all kinds of clothing styles.
Plus, they're designed with premium leather, giving you a freedom of movement and a skin-friendly, smooth feeling. The air holes found throughout its surface are crucial for breathability.
All things considered, we're talking about excellent workmanship, one that will definitely bring you plenty of fun on the dancefloor. Plus, the aesthetic of the shoe was carefully designed as well; made to accentuate the length of your entire leg, and make you seem more stylish while you're wearing it.
This shoe is great for wider feet, if you have narrower feet, you'll need to go down half a size.
Linodes Men's Jazz Dance Shoes
Remember when we talked about how important it is for your shoes to fit you perfectly – almost like a glove? If you're after such a dancing sensation, you won't do much better than jazz shoes such as these. The excellent design ticks all the boxes for what you want in mens salsa shoes and at an extremely affordable price, it's one of the best value picks on our list.
For a long while, jazz shoes (as their name suggests) used to be utilized in other types of dances. However, these days salseros frequently wear them both for social dancing and training lessons. Primarily, they use them due to their lightness; a quality jazz shoe basically resembles a sock.
When you have them on, your feet basically touch the floor as directly as you can without going barefoot. This shoe is produced with premium-quality leather, meaning that it's light but still sturdy enough – and it's bound to last you a while. On top of that, it has a suede bottom, meaning that they're great for professional dance floors in terms of spins and footwork.
Very Fine Men's Salsa Sneaker
For any aspiring professional dancer, this is definitely a great bargain. Apart from high-quality ballroom latin dance sneakers you will get (and which we'll get into pretty soon), you also get a handy kit for maintaining them. In other words, you will receive a shoe brush that's great for cleaning and shining, as well as a pouch bag that will prevent the brush from scratching. Also, you get a shoe bag for traveling situations, as well as a dance shoe freshener.
All in all, this is certainly a professional dancer's bundle – the shoes themselves are lightweight enough, and usable for all kinds of dances besides salsa as well; if you ever decide on branching out in terms of style and technique.