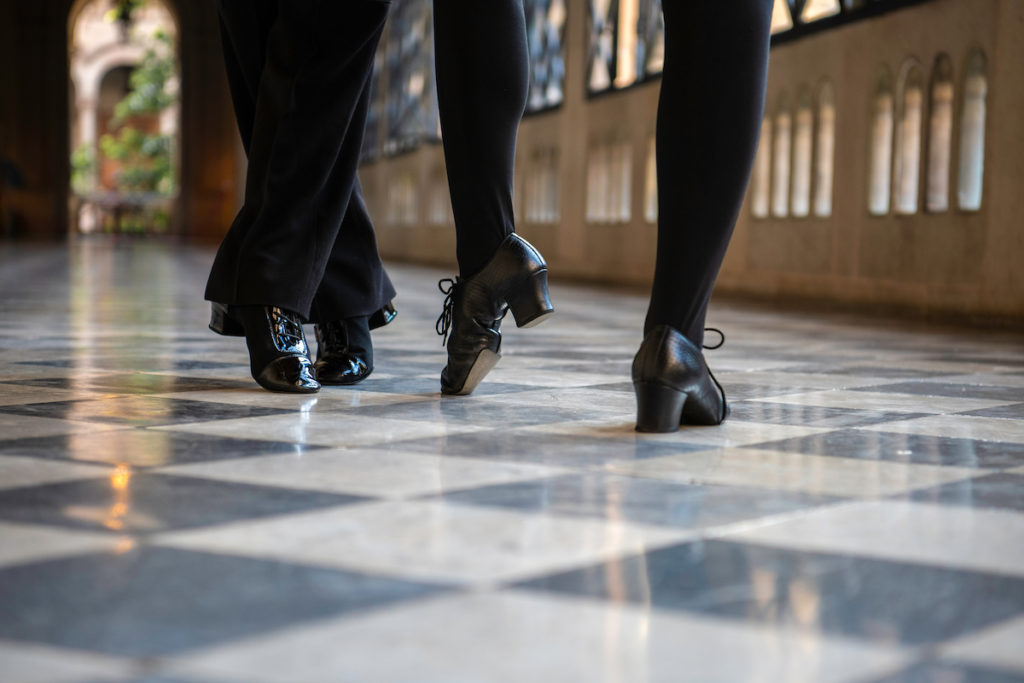 The ballroom practice shoes you wear can make or break your dancing, whether you're dancing professionally or to pass the time. The best ballroom practice shoes significantly differ from what the best performance shoes might look like. If you're relatively new to the dancing business, this might be surprising information, but if you think about it, it makes perfect sense.
One mistake you cannot afford to make as a dancer is to torture your feet as they are your stock-in-trade. This is why the best ballroom dance shoes are ones that are comfortable, padded and low heel.
In this article, we have reviewed six shoes by comparing their features with the best attributes of ballroom practice shoes for ladies.
Are practice dance shoes necessary?
If you're a new dancer, whether you're dancing latin ballroom or smooth ballroom you might be surprised to learn that there is a difference between normal dance shoes and practice dance shoes. There are also professional, performance shoes, which can be a whole other post in itself! Depending on how often you dance, practice shoes are important to have.
Related: Check out our recommendations for ballroom dance shoes for beginners.
Who are practice dance shoes for?
If you're dancing frequently – say more than 2 times a week, you'll benefit most from having a good pair of practice dance shoes. If you're only dancing once a week, practice shoes probably aren't necessary and you'll be fine sticking with your go-to pair of ballroom dance shoes.
What are the benefits?
Aesthetics: The biggest difference you'll notice when comparing practice dance shoes and normal dance shoes are the aesthetics. Your ballroom dance shoe is probably one you use to go out dancing. Depending on your style preference – women's ballroom dance shoes tend to have a lot more variety – these tend to be a bit flashier, colorful, and intricate. Since practice shoes are really just for lessons, practice shoes are more about functionality, so they will have a simpler design and have basic colors.
Comfort / More Secure: The problem with using normal dance shoes frequently over a long period of time is that they take a toll on your feet, legs, and even your body. Because normal dance shoes have a higher heel, people have been known to develop back and foot problems. Practice shoes have a lower heel and are very sturdy. Using practice shoes helps to prevent long term issues.
Durability: As I mentioned earlier, practice shoes is all about functionality. They are created for hours and hours of use. A good practice shoe can last you years of extensive use.
What should you look for in the perfect shoe?
What you should look for in a practice dance shoe is really similar to what you might look for when choosing a normal non-practice dance shoe. We've written extensively about what beginners should look for when choosing ballroom dance shoes. Here are the most important things to look out for:
Fit: Your practice shoe should fit like a glove. It should be very snug. This helps to prevent any slipping and prevent injury. It should feel a teensy bit tight. As you keep dancing, the fabric stretches to mold around your foot. Your dance shoe size is generally half a size smaller than your street shoe size.
Sole: Since practice shoes are usually used indoors in classroom settings, the soles are almost always suede. Suede leather is the best for dance practice because of its ability to both grip the wood dance floor without sticking and complete spins with ease.
Heel Height: We recommend to keep practice shoes no taller than 1.5in. Of course everyone is built a bit differently, so you should feel free to practice in a taller heel if you feel comfortable. We have added few practice shoe recommendations with a higher heel height for this reason. Just make sure to listen to your body.
Heel Style: The best heel style for practice shoes is the Cuban Heel. The Cuban heel is a thick block-like heel, making balancing really easy, and requires less pressure on different parts of your foot. Sneakers are also a great option if you don't feel comfortable in heels at all, or are dancing for long hours. At the end of the day, it's all about listening to your body.
Best Ballroom Practice Shoes
AlmaDanza Ladies Practice Dance Shoes
Perhaps the two competing important features of ballroom practice shoes are comfortability and durability. Because you spend a lot of time practicing, you want a shoe that is pleasant to your feet without sacrificing the elegance that is pivotal to dance shoes. At the same time, you also want it to be durable enough to survive constant and continuous use.
This AlmaDanza practice shoe definitely meets the mark. An embedded metal shank provides a surprising combination of flexibility and sturdiness while still supporting its elegant arc design.
With a 2.2mm thick suede sole that comfortably grips the dance floor, combined with its heel height of 1.8 inches, it is extremely suited for both performance and practice dancing.
Because this shoe laces in front, it can be easily tightened or loosened to optimally fit the width of your feet, so it is one of those rare finds that perfectly serves people with narrow feet as well as those with broad feet.
Available in black and tan colors, a medium amount of cushioning protects your feet even as its mesh design ensures your feet can breathe.
Overall, we couldn't find any feature on this deceptively simple yet elegant beauty worth complaining about.
YYTing Black Elastic Dance Shoes
The most amazing feature of this YYTing Ballroom practice shoe is the lack of either a buckle or a lace fitting. Instead, its crisscross straps are made of elastic which automatically cocoon your feet.
Apart from its practical use as an elastic band, the criss-cross straps also serve as a means of beautification.
Currently available in 4 colors: red, black, tan and nude, these elegant beauties are built for comfort as well as performance. The presence of a sweat-absorbing suede insole together with a soft linen interior protects the feet. You can dance to your heart's content, secure in the knowledge that your feet will remain pampered.
The lack of a shoe bag for easy transportation is a definite con but it is not a deal breaker as its other features more than make up for this.
With a suede sole that provides traction on the dance floor, you can spin as much as you like. Although at 2.5 inches, you might consider these heels too high for constant practice. This is probably why YYTing provided a 1.5 inch heel option, an alternative that carries all the same exquisite features in addition to its reduced height.
Sansha Salsette Dance Sneaker
These ½ inch heeled sneakers from Sansha are probably the most comfortable pair of ballroom dancing shoes you will ever own. In addition to the extremely low heels, they have padded collars and interior for ankle support and protection.
Made in a sneaker design, these dance shoes feature a lace-up vamp for fitting. But as is common with dance shoes, it has that elegant arc structure, a suede sole for traction and a quick-drying mesh fabric that doesn't suffocate your feet.
All these features combine to form the most terrific ballroom practice shoes, but it should be noted that the toe area is narrow, so might not comfortably accommodate really wide feet.
The Sansha sneakers come in a variety of colors: red, grey and purple, all mixed with black and an all-black option.
Very Fine Women's Mesh Heels
In a sea of comfortable shoes, these leather shoes by Very Fine are another hit. Despite an exterior that is almost entirely made with genuine leather, these 2-inch beautiful shoes remain affordable. For its current price you get a bundle of 5: dance shoes, shoe brush, pouch bag, shoe bags, and shoe freshener.
Other features that make it highly recommended include a non-slip insole that is made of nano fiber which automatically deodorizes the shoe after use, an extra thick padding that absorbs the impact of use, a memory footbed which protectively contours to your feet and a lace-up design for a snug fit.
The leather and mesh exterior makes for a beautifully elegant look while the suede sole grips the ground and helps you easily navigate the twists and turns while dancing. Unfortunately, you can only get these classy practice shoes in two colors: black and nude.
Very Fine Leather Ballroom Dance Shoes
Our last shoe is another little number from Very Fine. But unlike the last shoe, these 1-inch ballroom practice shoes feature a quick-release buckle for fast adjustment.
An outer suede sole provides traction while an inner padding protectively cushions your feet. A closed toe and heel design ensures that they give optimal fitting in addition to remaining flexible and comfortable.
This flexibility and support is also enhanced by the addition of a shank board. Because it is made of durable leather, it is sturdy and thick and might require some time to break it in.
To further sweeten the deal, you don't only get an amazing ballroom shoe when you buy this beauty. You also get a foldable brush bundle.
Final Thoughts
Selecting the right pair of ballroom practice shoes sight unseen can be a little daunting. But it always helps to consider the review of other dancers who have bought and used the products.
We have analyzed and laid out the pros and cons of each practice shoe in this review. Although they come in different designs, they have the common feature of being great for learning or practicing. Because we selected the best from available options, they are largely positives and you can not go wrong if you select any of them.