A pair of good shoes can take you to the best places. It's true! Your perfect pair of swing dancing shoes will take to great places like dancing halls and the most coveted centerstage. In that case, don't you think it's a good idea to invest in one? In this article, we'll show you the top ten proven and tested swing dance shoes we've rounded up based on numerous reviews and specific standards. But before that, we'll let you know what features to focus on when choosing your new pair of swing shoes.
A Brief History of Swing Dance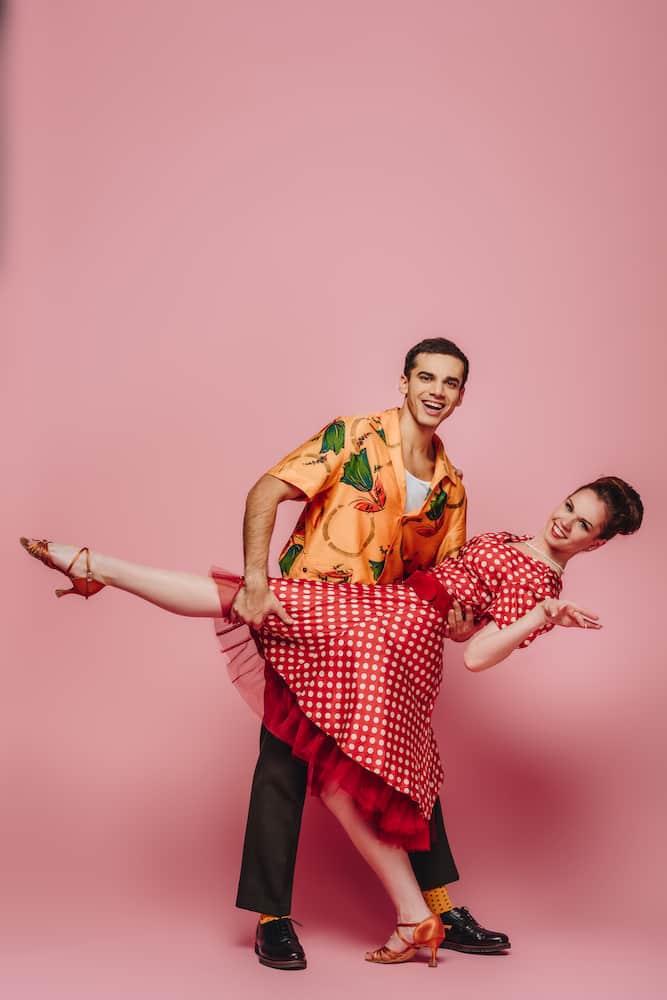 Swing dance was introduced to the rest of the world way back in the 1920s and 1930s. Though all dances during that time were performed to the tune of jazz music, swing dance was already in a league of its own. The Savoy Ballroom witnessed the first lindy hop as the rest of the African Americans challenged the European's social dances. Swing dance was a fun dance performed with a dance partner with wild movements that showed a rich mix of Charleston, tap, and free-form expression. No wonder it was seen as a mockery of the calm and graceful waltzes of Europe.
It was in the 1930s that swing dance began to spread its roots beyond African-American communities. At first, dance teachers, who were more accustomed to structured, traditional dance styles were resistant about it, but seeing how it took the center stage in local clubs, they weren't able to do anything but embrace it as an unstoppable dance form. The dance eventually grew to fame and spread quickly all across the United States in the 40s and 50s. Regional styles were soon incorporated into its traditional steps. 
Fast forward to modern times, swing dance is still performed by modern dancers. Some even take dance lessons just to learn how to properly execute it. If you find yourself reading this article, you might be one of the dancers who still yearn to keep the swing dance spirit alive. If you're still new to swing dance, the first thing that you should invest in is a good pair of swing dancing shoes.
What should you look for in a pair of swing dancing shoes?
Every dancer has his or her own preference for the dancing shoes that he'll be wearing. However, as far as swing dancing is concerned, comfort and good fit are two of the most common considerations. Since you'll be wearing your shoes for a long time, comfort shouldn't be compromised. After all, how can you swing your heart away if your feet are hurt? It should fit well, too. Leather shoes can stretch if you wear them frequently, so make sure to choose the right fitting pair. If you're still not sure what to look for in a good swing dance shoes, here are other features you should consider: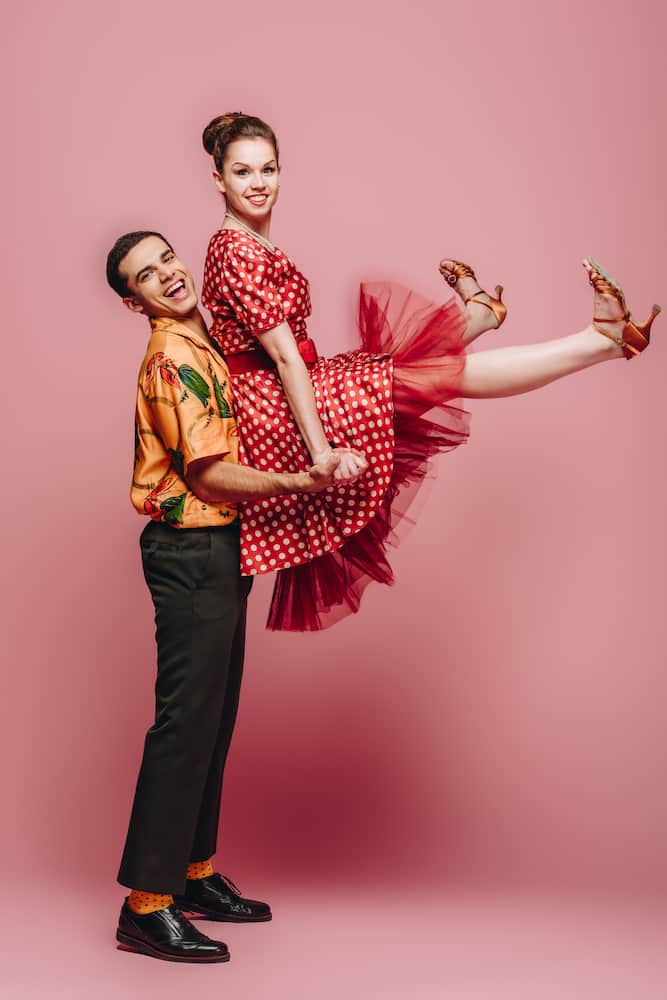 Spin and slide: Swing dancing involves a lot of actions and spinning. These movements will require some sliding on the floor. Running and other athletic shoes have soft rubber bottoms that'll stick to the floor, making it hard to turn and do some fancy footwork. You need hard, and suede leather shoes as these have a surface that's ideal for making turns and executing difficult footwork.
Chromed: this means that the shoe bottom should be properly covered with hard leather or suede. Chromed shoes are also suitable for the kind of footwork required in swing dancing. Generally a rubber sole is recommended for Lindy Hop shoes, as they're stickier and are better to grip onto the floor for executing fast moves.
Now that we've identified what features to look for, let's move to the top ten swing dance shoes that we've compiled for you. All the shoes on our list are proven and tested by dance enthusiasts and experts, so you can be assured that any of these can be the right fit.
Best Unisex Swing Dancing Shoes
Keds Champion Core Canvas
When you talk about swing dancing shoes, it's impossible to not mention Keds. Keds Champion sneakers were not only the choice sneaker for olympic athletes in the early 1900s, these were the ultimate swing dancing shoes worn by many dancers back in its heyday
Today little has changed about this sneaker. It somehow feels retro while being contemporary at the same time. For this reason, it's the shoe of choice for many swing dancers even to this day!
The lightweight canvas material, cushioned footbed, along with a rubber sole, makes these sneakers the trifecta of swing dancing shoes. They also come in a variety of colors so they can match many different looks.
Best Women's Swing Dancing Shoes
Women's Jr. footlight T-strap Swing Dance Shoe by Capezio
This pair of high-quality Capezio dance shoes is made from premium-quality leather that bends effortlessly. It sports a thin sole that's best for dancing and not the thick one that you normally see in street shoes.
This dance shoe comes in caramel and strong black. The former color is just a little lighter than the normal skin tone-colored stockings you normally see. In terms of comfort, experts say that the shoes feel safe and ultra-comfortable. When you wear it, it won't give you the impression that you might have an injury or break your ankle.
Apart from all these, this product has a soft upper with clean and sophisticated lines and a durable arch cookie that improves the shoes' overall comfort. Various stress testings were conducted, and it all proved that the heel of the shoe is firmly attached to its body. This means that it will keep the dancer's heel from digging in every time he points.

Women's Sadie Oxford Swing Dance Shoes by Eastland
The manufacturer's history and the level of quality of these Eastland swing shoes are pretty much interrelated. This Maine-based family business has been around since 1955. The three generations of shoemakers share one thing in common — workmanship.
Since the company started manufacturing shoes, they never lowered its standard in shoemaking. In fact, up until now, all the shoes that come out of the Eastland factory are hand-sewn, reflective of the company's traditional shoemaking philosophy.
Sadie, in particular, comes with a leather upper that shows a perforated leather overlay and a two-tone design. The shoes can accommodate wider feet. Sadie's outsoles are made from lightweight EVA that's ideal for improving agility and encouraging ease of movement. Because of these, Sadie is, by default, a classic design loved by many swing dancers.
Women's Student Footlight Character Shoe by Capezio
This innovation from Capezio comes with just the perfect height and a classic mary-jane style, and a sturdy buckle ideal for swing dancing.
It's designed with a stretch-insert split-sole that makes sliding and execution of complex footwork easier, safer, and more fun.
The shoes' arch is also slightly higher than most shoes, but is still built with solid support. This is an example of a character swing dancing shoe with a notch specifically cut out in the back to support your achilles.
The shoe runs a bit small, so you may need to order half a size larger, especially if you have wider feet.
Character Women Swing Dancing Shoes by Stelle
The founder of Stelle has created beautiful shoes combing her experience with her love of dancing and dancing with painful heels. These shoes come with a supportive arch with a padded memory foam cushion – say goodbye to blisters and limited time for breaking in!
The square heel is so stable that despite it being 2 inches high, you'll feel elegant and stable while dancing all night. The classic, retro design makes this an excellent swing dancing shoe option.
Stelle is an excellent lower cost alternative to the Capezio Character shoe. It will lack a bit in the quality compared to Capezio, but this is still a well made shoe that is excellent value.
This shoe is extremely versatile. The sole material is sturdy enough to wear for hours dancing, in any kind of indoor or outdoor setting, in a dancing or a normal day-to-day environment.
Women's Swing Dancing Shoes by iCKER
These beautiful sparkly pair of heels will give your dance vibe a bit of flash. They are available with both wool and rubber soles and are versatile depending on your environment. For swing dancing, a rubber sole is recommended. They're non slip and at the same time, they're flexible to suit every type of move.
The convenient ankle clip makes it easy and fast to take on and off, and the buckle allows a perfect and secure fit. The lining and padding is quite comfortable, so much so that you need insoles to dance wearing it and break-in time is minimal. Its heel cup is also slip-resistant just like most lindy hop shoes.
Aside from being comfortable and functional, the shoes are beautifully designed. It's made from sequin and faux leather, making them wear-resistant and more durable. iCKER's sing dancing shoes truly ticks all of the boxes!
Women's Super Jazz Dancing Shoes by Bloch
Bloch is well known in the dancing world for making high quality shoes. They have perfected this style of jazz shoe, that also works amazingly for swing dancing. The main selling point of this style of shoe is its rubber sole that's covering the entire shoe length, making it ideal for spinning. Aside from being durable, the shoe is also lightweight.
One of the downsides identified with this shoe is the absence of arch support. It may be flexible but since it lacks arch support, as they're similar to slippers. They, however, compensated what they lack with great comfort. Adding a memory foam insole can help give it extra support if needed.
The product is made from soft leather and comes with an elasticized pull-on instep panel that enhances its fit. As for the traction, the rubber split-sole of the shoe provides the perfect balance between its grip and slide capacity.

Best Men's Swing Dancing Shoes
Men's Dickinson Lace-up Oxford by Stacy Adams
A solid pair of Oxfords is a staple for many male swing dancers. They're classy, vintage, yet undeniably timeless.
There are numerous brands and styles of Oxfords, but we're partial to Stacy Adams, who have specialized in Oxfords since 1875. Being over 100 years old, they have a huge variety of styles. We love this rich Cognac color of the Dickinson pictured here. It's not hard to see how it's become a bestseller. If you're bold enough to go for a two-tone wingtip that's sure to turn heads, Stacy Adams has got you covered.
This style is on the higher end of what we normally recommend, but the beautiful design, high quality as well as the emphasis on comfort, makes this shoe well worth the extra cost.
Because of the fine material, it takes a little longer period to break in, but once you're used to it, you won't wear anything else. The classy and elegant design, also makes this shoe appropriate for formal events and for the office.
Men's Swing Dancing Shoes by Capezio
Capezio not only makes amazing women's dancing shoes, they also make exceptional men's swing dancing shoes as well.
This faux-leather men's dancing shoe from features a one-inch heel and a suede-covered shoe bottom. Its suede sole is best for shock absorption and helps deliver a smooth performance. It allows for smooth turns, while also providing traction. Since the shoes have suede soles, they should only be used for practice on an indoor dance floor.
In terms of comfort, you get nothing but the best from this Capezio pair. Its insole is also shock-absorbent and its Achilles notch is well-padded. The shoe lining is made from cotton so your feet will stay dry even if the rest of your body a sweat.
Breathable Lace-up Men's Swing Dance Shoes by NLeahershoe
This dancing shoe from NLeahershoe is an eye-candy because it's made from premium-quality leather. It also comes with a lightweight and anti-slip insole. Its selling point is the fact that this perforated pair allows breathability.
The only downside of this product is the sizing. The sizing can be a bit inconsistent. Sizes run a bit small, so if you have wider feet, you should go up a size.
These shoes are great for beginner dancers as they're one of the best value picks. They're great value for the price, and meet every need for a fantastic dance shoe. Due to the suede sole and light weight material. You're able to easily float and glide across the dance floor.
It's simple design is also one of the reasons why this shoe is always sold-out. It takes comfort and aesthetics to a whole new level that you'll never regret getting yourself a pair.
With all that has been said, one thing holds true — your choice of swing dancing shoes will determine how much you'll enjoy swing dancing. If you'll be comfortable with your shoe choice, you'll end up enjoying swing dancing even more. If not, you'll have a hard time adjusting to the complex and agile dance moves that come along with swing dancing. Take time to pick so that you will not end up regretting it.

Good luck and see you on the dance floor!