Starting a new hobby is always exciting. Starting one like ballroom dancing, steeped with rich history and cultural influences from all around the world is even better. Millions of people have started this hobby and, like us, it's become a passion. The first step starts with a lesson or two and then it's all about finding the right shoes. Here's our comprehensive guide on finding the best ballroom dancing shoes for beginners.
Related guides:
Do you really need dance shoes for ballroom dancing?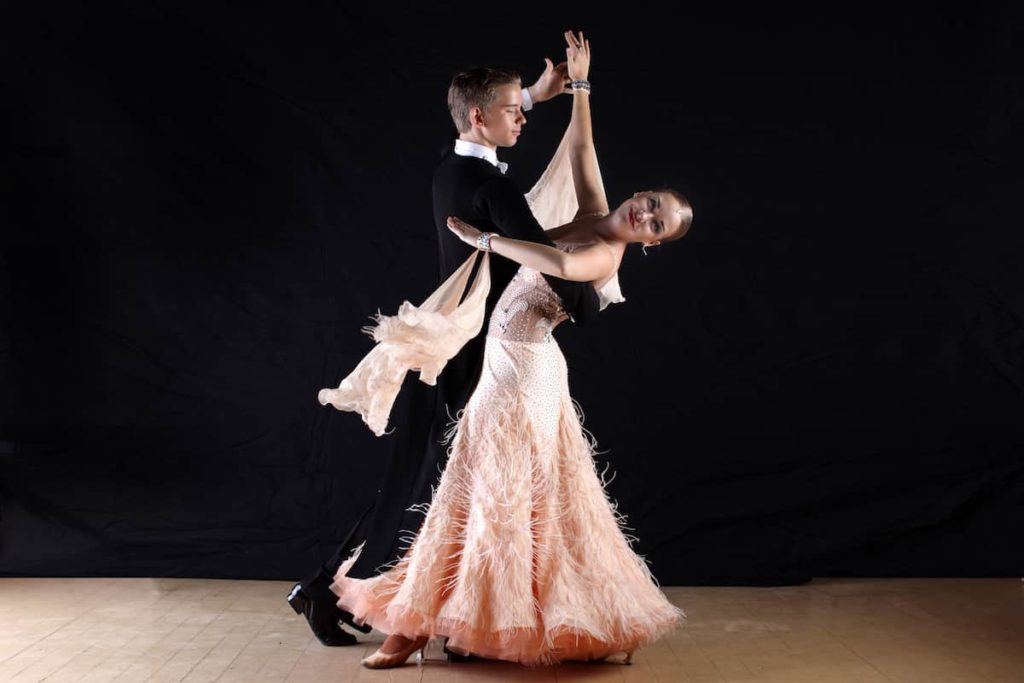 Are ballroom dance shoes really necessary? As a beginner, this is probably one of the first things you've contemplated once looking into the topic of dance shoes. You've also likely had a few lessons with some comfortable tennis shoes or even sandals.
When you're just starting out, this is completely understandable. Why invest in a new hobby before you know if you even like it? However if you've fallen in love with ballroom dance, like millions of others, and want to continue growing your skills, a good pair of ballroom dance shoes will serve you well.
The reason for this is because dance shoes are specially made for specific aspects of dance.
Why ballroom dance shoes are worth the investment
Whether you're learning Latin or Standard ballroom dance, dance shoes will be important, not only for your development as a dancer, but also for your safety.
Dance shoes help protect your knees when spinning. Ballroom dance shoes usually have a suede sole. The benefit of this type of sole is that it allows for smooth spins, while gripping the floor. This is in contrast to most shoes, which have a rubber sole. The problem with rubber soles, is that it sticks to the ground, makes spinning difficult. It also causes strain on your knee, which is damaging in the long run.
Ballroom dance shoes are made specifically for dancing. For example, they are cushioned in the specific parts of your foot, that will experience the most pressure from repeated dance moves. They also have the good support to prevent foot injuries. This is most important for ladies dance shoes with heels.
They help enhance dance performance. In many ballroom dances, pointing and flexing the toe is important. Dance shoes are structured with flexible soles that help create the full effect. For example, in latin dance, where toe pointing is important, open toe shoes are recommended.
Difference between Latin Ballroom and Standard Ballroom Dance Shoes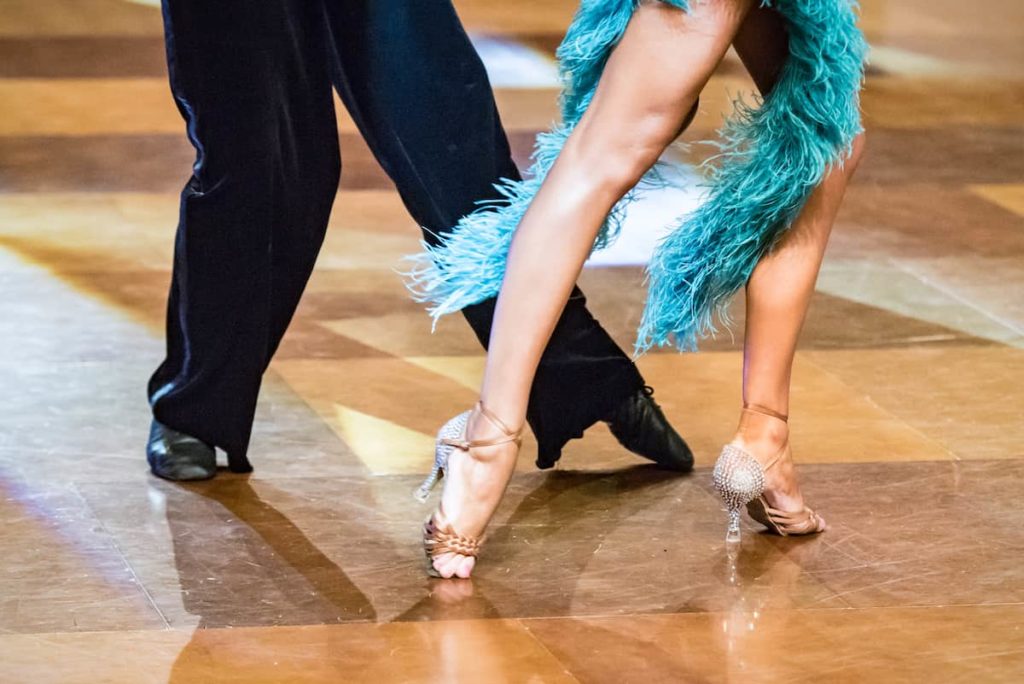 There are two major styles of Ballroom dance – International Standard and Latin. International standard ballroom includes Waltz, Tango, Foxtrot, Viennese Waltz, and quickstep. Latin Ballroom consists of Cha Cha, Samba, Rumba, Paso Doble and Jive.
The footwork for Latin and Standard ballroom dances are quite different, which makes the types of shoes you'd use for either dance, very different. In Ballroom dance, the footwork transfers weight in both the heel and toe whereas Latin maintains weight primarily on the ball of your feet. For this reason, the heels for Latin dance shoes tend to be a bit higher. The footwork for Latin dances is much more demanding and accented. So the Latin dance shoes tend to be more elaborate.
Tips for buying ballroom dance shoes for beginners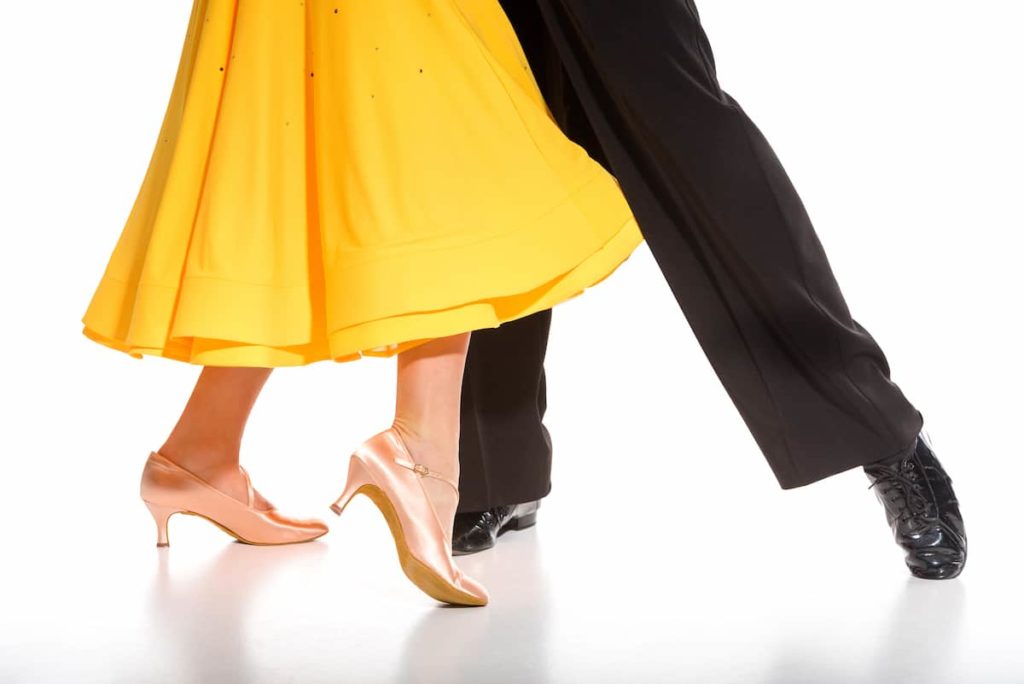 With all of this in mind, we can now evaluate the anatomy of a ballroom dance shoe if you will. Let's take a look at the different aspects you need to be aware of when looking for ballroom dancing shoes for beginners. With so many different things that come into play, it's not surprising that dance shoes are such an powerful and important tool for any ballroom dancer.
Sizing and Fit
The general rule of thumb is dance shoes are half a size smaller than your street shoes. However this can vary a lot depending on the manufacturer and brand. There are manufacturers all over the world, so the sizing can be quite different.
Dance shoes need to be a little small as it needs to be extremely snug. They need to feel one with your feet – almost like a beautiful and elegant extension of your feet.
When you first try them on, they need to fit a little snug. They won't feel comfortable immediately. If they do, you likely need to go down a size. Because you will be wearing them often your shoes will stretch out. If you purchase a size that fits immediately, after a few hours of lessons, they'll be too loose. This will hinder your ability move freely and could make it easier to be injured.
Because of the importance of fit, many dance shoe brands will have narrow and wide options. If your specific shoe brand does not have this option, you may need to go down a full shoe size if you have narrow feet. If you have wide feet, you may have to stay with your street shoe size or go up a shoe size.
We also recommend that you try on your shoes when your feet are the biggest or the most swollen. This is usually during mid day, when you have had a chance to walk around and get some blood circulating in your feet. Your feet will be smallest the first thing in the morning.
Heel Height
Heel heights for Latin Ballroom dancing is higher than Standard ballroom for both men and women. Below are you can compare the difference in heights for Standard vs Latin heel heights.


For women, Latin ballroom shoes range from 2-3.5 inches. Men's latin shoes range from 1.5 – 2 inches. Most latin ballroom dancing is done with the weight at the ball of your foot, so having a higher heel gives the best aesthetic look for this.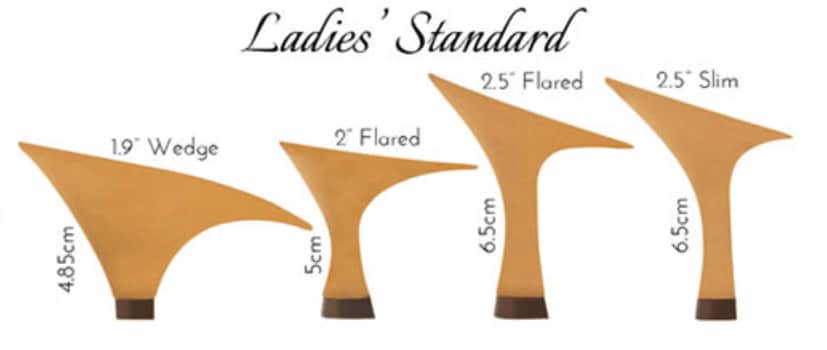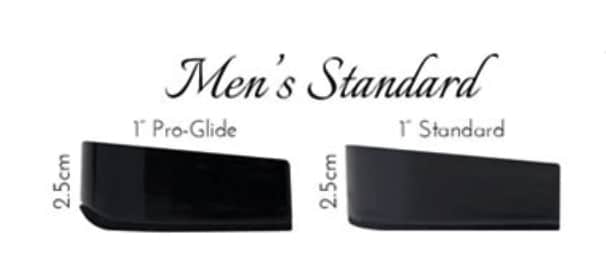 Standard ballroom shoes for ladies range from 2-2.5 inches. The highest heels for standard is only half an inch higher so it doesn't seem like that big of a difference, but in practice, half an inch is much more difficult. For men dancing standard, heel heights range from 1/2 and inch to 1 inches.
Heel Height recommendations
Generally most men wear 0.5 – 1 inch heels even for latin dancing. Actual latin shoes are worn in competitions and performances, so don't feel pressured to have to dance in higher heels. Wearing standard ballroom shoes for latin dancing is quite common.
For women who are new to ballroom dancing, we recommend starting with a lower heel generally in the 2-2.5 inch range. This is especially important if you are not used to wearing heels. Getting comfortable with balancing yourself during moves and turns takes practice. In addition, you will need to build up strength in certain areas of the foot to reduce chance of injury. After you start feeling comfortable with this heel height, you can gradually start increasing your heel height!
Heel Shape
In addition to heel heights, the heel shape is also a varying factor and the type of heel you'll want depends on your experience level. Here are the most common heel types you'll encounter.

The slim, or stiletto heel straightens or narrows towards the base. The highest heel heights have a stiletto shape. The result is a sexy and dramatic look. For this reason, it's generally reserved for experienced dancers and for competitions.
That being said, there are slim heel designs with lower heel heights, and they can still be used by beginners. Slim heels are most commonly used with ballroom dancers.

The flared heel "flares out" and gets wider at the base, providing the best support. Shoes with a flared heel is what we recommend for ballroom dancing shoes for beginners. The flared heel is a smart choice for both ballroom and latin dancing, but is more common among latin dancers because of the type of movements required for latin dancing is more demanding.

The cuban heel is for shorter styles. This type of heels exist for both men and women. The cuban heel is works well for dancers who want more support and don't want a high heel. It is also the type of heel used in practice dance shoes.
Sole Material
There are two types of sole material used for dance shoes – leather and leather suede. These are fine materials, so they should be worn primarily for dancing and not for day-to-day use. The benefit of this sole material is that they both allow for easy and fast spins and pivoting, however the vast majority of dance shoes will have leather suede soles.
For beginners, we recommend starting with a suede sole. Suede soles are attractive because it gives much more control to the dancer. The suede allows for easy turns, but it also allows you to grip the floor as to not slip. With the soft suede material, you're also able to more easily feel the floor, and you can control your movements easier. The suede is a delicate fabric, so you will need to be careful in not getting them wet or wearing them outdoors, as they'll easily be damaged.
Some dancers have a preference for leather soles, though this is a minority. Leather soles are much more slippery, so you need to be more careful, but the benefit here is they can execute lighting fast spins. Leather soles are also a good option if you'll be doing any outdoor dancing. The floors for outdoor dancing rougher than indoor dance floors, so leather soles will be able more durable and they'll be able to handle it.
High Quality Materials
The materials used for dance shoes should be high quality. There are numerous low end and high end options for dance shoes. Dance shoe prices ranges are huge. They can get as high as $300 and on the other end you can also buy dance shoes as low as $15.
The low end is what most beginners will opt for because of the value. The excellent value cannot be denied. However a common complaint for these types of shoes is that these is the fabrics are low quality. This means you don't get the optimal benefit of a superior sole which will give you the best spins and control. In addition because of cheaper material, the shoe may not ever break in and will continue to feel pretty uncomfortable and be stiff. Finally it's guaranteed that the parts of the shoe will break and deteriorate much more quickly than a higher quality shoe.
The issue many have with a higher quality shoe, unsurprisingly is the price tag. As a beginner, we wouldn't recommend shooting immediately for the most expensive shoe. In fact at a certain price point, the additional benefits don't necessarily match with the price. There are plenty of shoes in the $75-$100range that are excellent quality and perform superbly.
Here are a few recommendations for the best ballroom dance shoes. We include both high end and value options.
Open Toe vs Close Toe
Women's ballroom dance shoes have open and close toed options. Close toed shoes are generally for Standard Ballroom or American Smooth dances such as the Waltz and Foxtrot and open toed shoes are associated with Latin ballroom dances.
As we mentioned earlier, Latin ballroom has more involved footwork compared to Standard ballroom, so the open toed shoes work better to highlight these moves. Open toed shoes are also more flexible, and are better for pointing and flexing the foot.
Where to buy dance shoes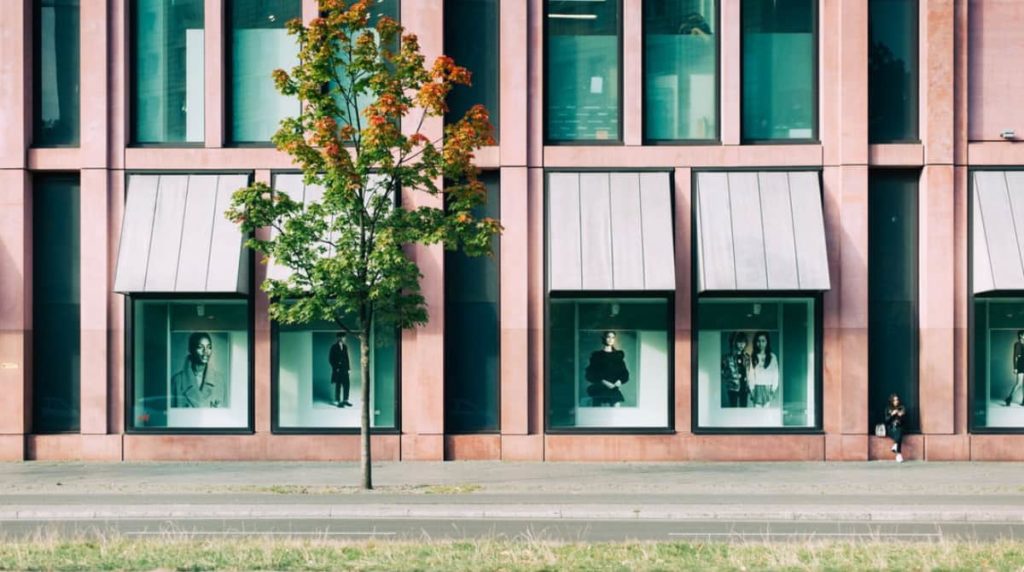 These days, the options of buying ballroom dance shoes are endless! The traditional way that people have found dance shoes for hundreds of years, was through good old fashioned brick and mortar stores. However, over the years more people, and companies have moved toward online shopping.
More and more dance stores have moved to online stores, so going to a dance shoe store is not always an option. But if you do have a reputable dance shoe store nearby, it's always good to try on a few pairs in person to get to know the fit and see how they feel. Usually options are more limited in the store, but they should have more inventory online. It's always good to check with the store clerk to see if there are more designs.
I would especially recommend buying in store if you're vacationing in or happen to be in a country with low cost of living and with a strong dance cultures like Argentina or Colombia. The manufacturing costs are much lower in these countries, so the overall prices of the shoe will be much lower. For example, I purchased some beautiful high quality dance shoes in Colombia for a fraction of what it would have cost me in the United States, where I'm from. It's also a great way to support local communities and businesses.
If you live in a smaller area and don't have many dance stores around there are tons of options online. We've hand picked our favorite ballroom dance shoes – they're all available online and can be shipped anywhere in the world. The benefit of buying online is there is a lot more variety and the options are more affordable. Most companies offer free returns, so you'll be able to exchange for different sizes if the fit isn't quite perfect.