Ballroom dancing is one of the most elegant and romantic styles of dance you can learn. Whether you're learning a Latin Dance like the Samba and Tango, or a Standard / Smooth ballroom dance like Foxtrot or Waltz, you'll need a good pair of dance shoes to take you to the next level. In this product guide, we've rounded up the top ten best ballroom dance shoes available on the market to help you jumpstart your own ballroom dancing journey. All the items that made it to this list were proven and tested by critics and dancers alike and we're confident about the selections here.
Read more: We've also written a guide on the best ballroom dance shoes for beginners
Background on Ballroom Dancing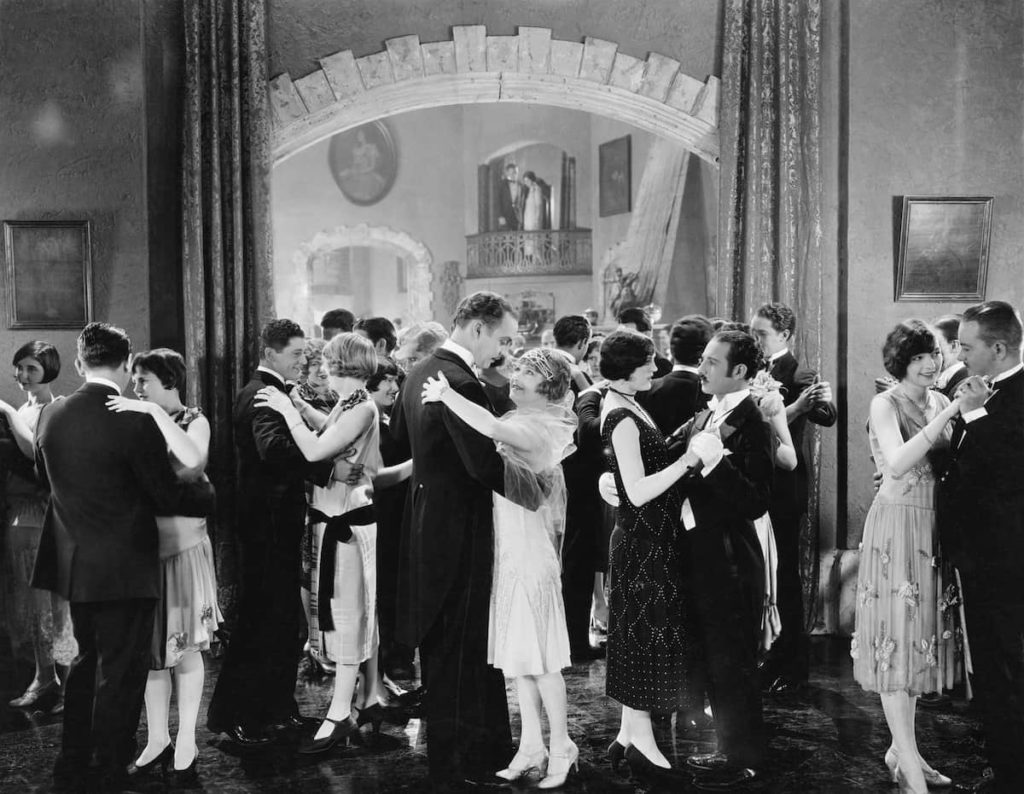 Before going through the list of the best ballroom dance shoes in the market, it's fitting to dive a bit into its rich history. Many centuries ago, ballroom dancing was only meant for the elite in society. Commoners generally took part in folk dancing. Fortunately, many years later, these class barriers were lifted and many were able to take part in this elegant dance.
It's believed that ballroom dancing came from the Minuet which was introduced by Jean-Baptiste Lully in Paris in 1650. Never did he realize that such dance would dominate the dance halls and palaces until the 18th century. Fast forward to the early parts of the 20th century — ballroom gain massive popularity in the US. By this time, Ginger Rogers and Fred Astaire successfully put ballroom further into the dance map with their meticulously choreographed and elaborate dances.
Today, ballroom is not only a massively enjoyed hobby, but it has also evolved into a competitive dancesport that enabled dancers of various levels of competency to compete against other professional dancers. Indeed, ballroom dancing has come a very long way. From being a hobby enjoyed by the elite, now, just about anyone who has a good pair of ballroom shoes and a passion for it can enjoy dancing to the tune of upbeat ballroom music.
Tips on choosing the best ballroom dance shoes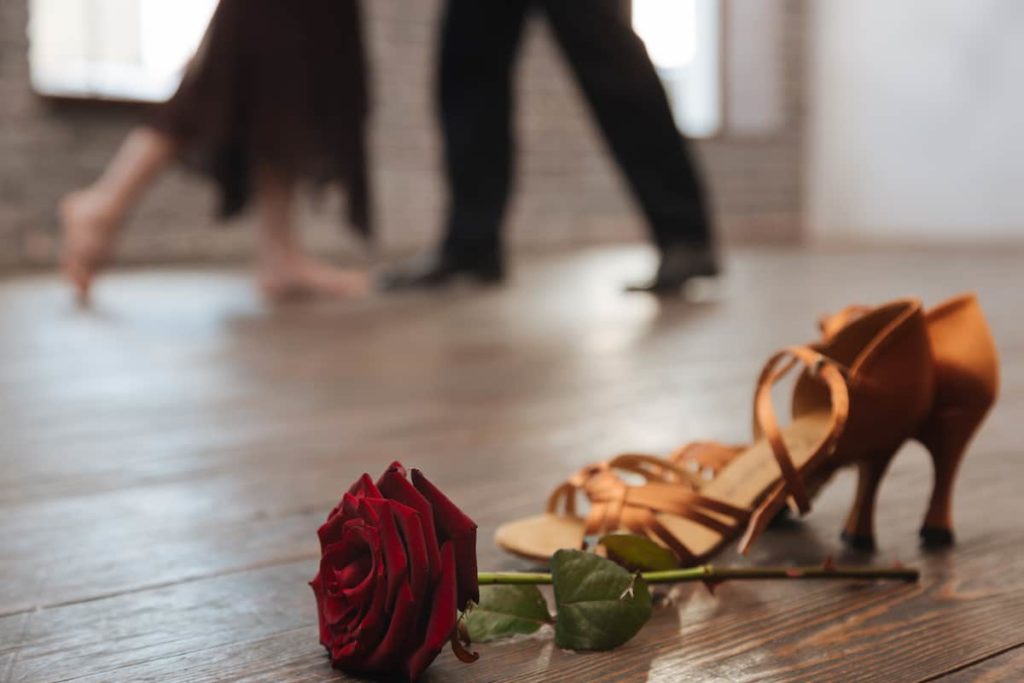 Before discussing each product one-by-one, let's take a look at the important factors that every ballroom dancer should pay careful attention to before buying a pair of ballroom shoes. 
You can also refer to our more comprehensive guide on choosing the best ballroom dancing shoes.
The Fit
It is important that your ballroom dance shoes should fit snugly on your foot. Your dance size is usually half a size smaller than your street shoe size. Starting off, your shoes should feel a bit snug. They will stretch over a few hours of practice and will fit your feet perfectly. If they start off too big, they'll be too loose and the fit will be poor. 'Snug' is the key word here. They shouldn't be too tight where your feet are in pain.
Check if fits snugly on your heel. For female dancers with lower arches, be careful of open-toed, high heeled shoes. Flat feet can easily slide forward through the shoes, causing your toes to dangle off the heel and have a sloppy fit.
Heel Height
Women's and men's ballroom shoes are both available in a variety of heel heights. In general, ballroom shoes have lower heels compared to Latin shoes. Choose the heel height that you find comfortable dancing into. If you're aiming for higher heels, you have to make sure that you can stand on one leg while pointing your other toe in front of you. If you can do this, then you can wear that heel height while dancing.
Stability
To know if a dancing shoe is stable, try taking short and long steps while walking both of your heels and toe first. If you can confidently do all kinds of walks while keeping your balance, the shoe is perfect for you. Stay away from shoes with wobbly heels.
Quality Materials
Some of the materials used to make dance shoes include patent leather, plain leather, canvas, and satin. Among these materials, plain leather is the least troublesome. Those made from fabric wear out and get dirty faster. Patent leather may look good but they need more maintenance and cleaning. They're also stiffer. Plain leather will soften later on and conform to the mold of your feet, making it more comfortable each time you wear.
Sole Material
When it comes to the sole, most Latin and ballroom dance shoes come with leather, resin, or suede sole. Among these choices, suede is the best when it comes to slip, resistance, and the ability of the dancer to feel the floor. They're not as fragile as other materials, too.
Women's Smooth / Standard Ballroom Dance Shoes
Women's International Smooth and American Standard Ballroom include dance styles such as Foxtrot, Waltz and Tango. For these styles, the ideal types of shoes are low heel and closed toe. Here are our picks for Smooth and Standard Ballroom dance shoes.
Top Pick for Women's Smooth / Standard: Supadance Women's Ballroom Shoes
Supadance is an industry leader, known for creating the highest quality shoes in the dance industry. It's the choice of dance professionals and dance aficionados all over the world.
For this reason, Supadance shoes come with a higher price point, but for the price you get impeccable quality with high quality materials. These shoes often last twice or three times longer than a lower quality shoe, which is what makes them stand out above other brands. We are confident in recommending these shoes as our top pick for the category of women's ballroom dance shoes.
The shoe is made of luxurious satin, which makes it both lightweight and comfortable. Suede soles allow for effortless spins and prevent knee injuries. It's also supportive and flexible and maximizes the ability to point and flex the toe creating beautiful shapes. The contoured heel is sturdy while looking elegant.
They also carry regular and wide sizes to ensure the right fit.
Joocare Women Cross Strap Ballroom Dance Shoes
These multi-purpose shoes from Joocare are perfect examples of class and elegance. Though it's unadorned with gems, rhinestones, or huge buckles, it delivers a strong and stunning presence.
Its cross strap-design added to its mysterious and timeless look that's fitting for any kind of ballroom dance outfit.
The heels are non-slip, making any movement on the dancefloor seamless and safe. The cushioned insole and moisture-absorbent lining also keep the feet dry despite hours of lessons or time on the dance floor.
AlmaDanza Women's Dance Shoes
This classic pair of ballroom dance shoes is a simple and elegant design. This particular pair comes in two different colors — nude and black. Despite its color variation, both shoes only scream class and timelessness.
With its low price point, It's an excellent balance between value and quality. Just like Joocare's cross-strap pair, this pair is also a gem on its own, sans any embellishments or bling. When worn on the dancefloor, it shows authority and the feel of being composed and confident.
The materials used to make this pair are also nothing but high-quality. The sole is made from 2.2 mm thick Ox leather, making it comfortable and flexible.
Very Fine Ladies Women Ballroom Dance Shoes
This is a great option for those who are a little intimidated by a higher heel or are looking to work up to a heel. The solid and sturdy 1 inch cuban heel will make you feel fully supported. It's also an excellent option if you're looking for a solid pair of practice shoes.
The great thing that stands out about this pair, it's the fact that you will have so many options to choose from. This model has neutral, simple colors and materials like the one shown here as well as bright and sparkly options.
Because you don't have to worry about the heel height, you can dance and move more liberally and aggressively. You can also withstand longer dance sessions with its cushioned and highly shock-absorbent insole. With this pair, pro or novice, you'll never go wrong.
Women's Latin Ballroom Dance Shoes
In contrast to American Smooth ballroom dance shoes, Latin Ballroom shoes feature a slightly higher heel because dancing is done with weight primarily on your toes and there is more dramatic pointing of the toes which is why latin ballroom shoes are generally open toed.
Top Pick for Women's Latin Dance: Werner Kern Women's Ballroom Shoes
Our top pick for women's latin dance ballroom shoe goes to Werner Kern. Werner Kern shoes are one of the most beautifully made shoes for ballroom dancing. They're made in Italy, and use some of the finest materials giving it an incredibly comfortable fit and ensuring the shoes will last for years.
This open toe design makes it a great shoe for latin dance. The flexible toes, make for easy pointing, and the beautiful laminated goatskin outsole illuminates your feet in. a subtle way.
Its shock absorbent cushioning provides comfort for many hours and the flexible materials make the shoe immediately comfortable form the moment you put them on. These are truly one of the best investments you can make.
Very Fine Women's Ballroom Heel
If you're not ready to spend $100+ on a ballroom dance shoe quite yet, Very Fine carries some excellent affordable options. Still emphasizing quality, each pair is crafted carefully and handled with precision and care.
These shoes come at a much friendlier price point and are beautifully designed. They're also insanely comfortable, flexible, and lightweight, so you can be sure you have everything to be dancing your best.
This pair also comes with a set of heel protectors, which will help prolong the lifespan of the shoe.
Yokala Women's Ballroom Dance Shoes
There are a couple of reasons why lady dancers love Yokala's gold with a modest 2.5 inch heel. The stunning style is the main reason. Its four straps do not only complete its eye-catching look, but these also protect the wearer's toe and hold her feet in.
It also has a sweat-absorbent, latex, elastic mid-sole and snug lining. These grant the wearer freedom in movement while she's on the dance floor.
With other ballroom shoes, you either have to choose a bigger or smaller size to achieve that snug fit you're aiming for. However, with Yokala's nude, you don't have to do that. Their shoes are all true to their size because sizing is based on the US standard shoe size.
And lastly, its design makes it ideal for ballroom dancing, dance lessons, and other events wherein you'll have to wear a formal indoor dress.
JZNX Professional Ballroom Dance Shoes
This low price point make this beautiful dance shoe an excellent choice for someone who is just starting out, or someone who appreciates a great value.
It's simple with some sexy straps that'll wrap around your ankle beautifully. It comes in two different colors –black and nude. It has a comfortable height, with heels measuring 2.4 inches.
Its ergonomic design is also one of its unique selling points. It has been polished repeatedly, the match your feet almost perfectly. It also has a soft, comfortable cushioning which helps for those hours spent on the dance floor or during lessons.
Note that the shoe is closer to a gold color rather than the pink / rose color in the photo.
Men's ballroom dance shoes
Top Pick for Men: Bloch Men's Ballroom Dance Shoe
Our top pick for the best ballroom dance shoes for men is Bloch's model. Bloch has been providing high quality dance shoes since 1930. Refining their craft for nearly a hundred years, it's no surprise that Bloch is one of the most reputable and trusted shoe brands in the industry.
It's recommended you order one size smaller than your street shoe size for a snug appropriate fit. These shoes are the epitome of excellent excellent workmanship with its fine and clean stitches over and under a high-quality leather material for both the insole and outsole.
It's no surprise these shoes tend to last several years, even among dancers who dance frequently throughout the year.
All in all, this standard 1 inch heel is a classic ballroom mens shoe and we feel confident recommending this as our top pick for men.
Capezio men's social dance shoe
This pair of Capezio shoes is very similar to Bloch's, except that it comes with a lower price tag. Capezio is still an extremely well respected brand, and a solid ballroom dance shoe choice for those who are more price conscious.
This pair of ballroom dance shoes offers optimal comfort with its padded Achilles notch that goes with its shock-absorbent sponge insole.
It also has a moisture-absorbent inner cotton lining that will keep the wearer dry as he gets more intense on the dance floor. This shoe is perfect for beginners in ballroom dancing as it strikes a perfect balance between comfort and ease of movement.
Its lightweight, full suede outsole also brings just the right of traction to move comfortably on the dancefloor. Its durable, supple, and soft PU upper makes the shoes flexible yet supportive enough to execute any forms of ballroom dances.
They also carry wide sizes so you're sure to find the perfect fit. Note that sizing tends to be a little inconsistent, so if you can, order a couple other sizes so you can ensure you have the best fit.
NLeahershoe's lace-up breathable leather dance shoes for men
If there are three adjectives that can well describe this pair of ballroom dance shoes from NLeahershoe, these are comfortable, lightweight, and flexible.
This pair is comfortable because it fits the form or mold of one's feet perfectly. Similar to other dance shoes, for the best fit, make sure to get a size smaller than your street shoe size.
The raw materials used to make this pair of shoes made it incredibly lightweight. As such, dancing with, leading, or following your ballroom dancing partner is seamlessly done.
And lastly, because of the shoes' lightweight nature, the pair can easily cope up with all the fancy footwork. To add to all these, the shoe has an anti-sole, making sliding on the dancefloor safe and easy. This is perfect for newbies and pros in ballroom dancing.