So you've decided to set out on a journey to learn how to ballroom dance. You may have taken a few lessons or danced socially from time to time. Whether your choice of dance is latin ballroom or standard ballroom, you're going to need the proper pair of dancing shoes. To paraphrase the Arctic Monkeys – it's time to get on your dancing shoes! This is everything you need to know to find the best mens ballroom dance shoes.
We've also written a more general guide on buying ballroom dance shoes.
Latin Ballroom vs Standard Ballroom Dance Shoes for Men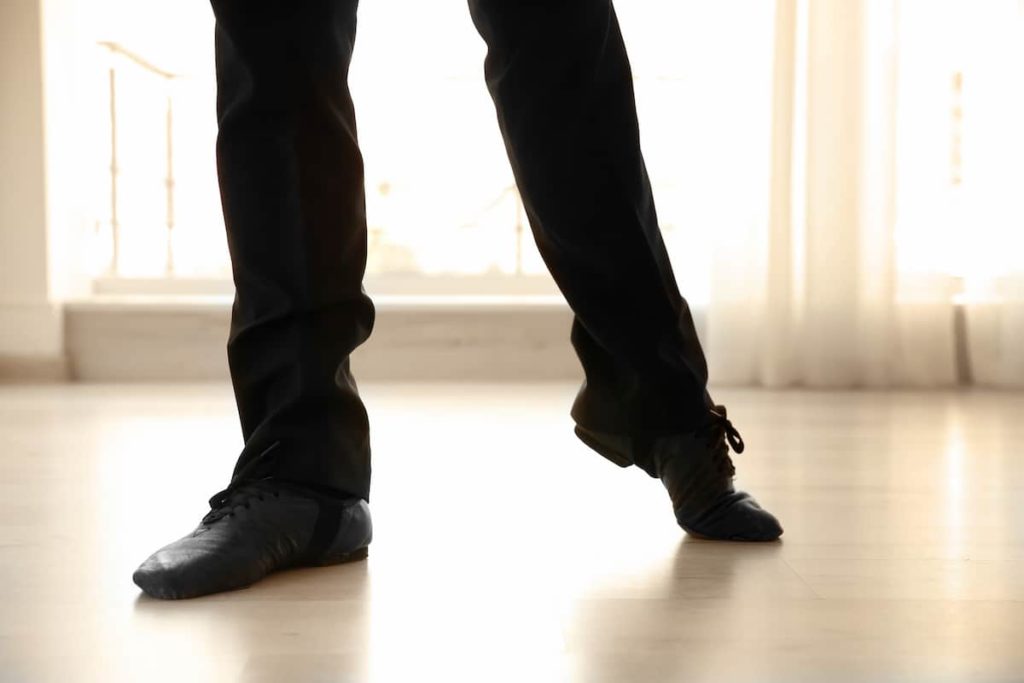 Depending on the style of ballroom dance you're learning, the type of shoe you'll look for differs, The difference isn't quite as drastic as womens ballroom dance shoes, but there are important factors you should be aware of nonetheless. The two main distinct styles are Latin and International Standard.
For more detail on the different factors to look out for, read our comprehensive guide on choosing ballroom dance shoes.
International Standard Ballroom
International standard ballroom style consists for dances such as the waltz, tango, foxtrot, Viennese waltz, and quickstep. The diffferences between Latin and Standard shoes mostly have to do with the heel. Mens Standard Ballroom dance shoes have a 1 inch heel.
Although the heel on Latin Ballroom shoes are higher, it's common for beginners of Latin Ballroom Dances to start with the lower heel of a Standard Ballroom shoe before moving to a higher heel.
Latin Ballroom
Latin ballroom styles include dances such as cha-cha, rumba, samba, paso doble and jive. Because these dance styles rely on the weight being at the ball of your foot, the heels on Latin ballroom dance shoes are higher than Standard. They are usually 1.5 inches to 2 inches and have more of an arch on the midsole.
They also generally have a split sole. With a split sole shoe, the soles are separated in two. With the sole being separated between the heel and the rest of the foot. This allows for more flexibility, and is especially helpful for flexing and pointing, which is common with Latin Ballroom.
Mens Ballroom Dance shoes for Standard
Top Pick: Bloch Men's Xavier Ballroom Dance Shoe
The Xavier shoe by Bloch gets our top pick for the best mens ballroom dance shoes for Standard ballroom. Designed in the fashion of a nice oxford, this is pretty much a salsa and ballroom shoe that adheres to the time-honored traditions of dancing shoes.
You'll find that the upper part is made out of high-quality smooth leather, while the heel is low and wide. This is quite important for maintaining balance, but without becoming too rigid. Additionally, the insole has enough cushioning for shock absorption, and the outsole made of suede works perfectly in terms of traction on difficult slides and turns.
It should be noted that Bloch is a brand that has been making shoes by the 1930. They're the pioneers in the field of dancing shoes; it's a renowned brand that guarantees quality. Their reputation deserves to have the place as our top pick.
Capezio Men's Social Dance Shoe
For all of you out there who are just getting into ballroom dancing – we've got a good choice for you right here, if you want the perfect pair of shoes for your first steps. This one-inch heel is lightweight enough for dancing newbies and veterans alike.
Capezio is also one of the top shoemakers in the ballroom dance industry. This dance shoe is the perfect shoe if you are more cost-conscious. These shoes are a great combination of price and excellent quality.
The heel is quite firm and allows for a quick counter, while the suede soles give you all of the traction you need to remain in control. The material this is made out of is flexible and yet manages to be sturdy and supportive at the same time; providing the wearer with ample ankle support!
Very Fine Mens Practice Dance Sneakers
Many wouldn't generally think of sneakers when thinking of mens ballroom dance shoes, but having a pair of these is extremely useful!
Regardless of how high-quality your dancing shoes are – after prolonged use, they're bound to get worn out. That's why you need a pair of shoes for practice as well. So you're not worried about replacing them at any time.
With this in mind, we recommend you get a pair of practice sneakers like these. Plus, on top of being affordable, this is a pretty neat package containing other stuff you need to preserve any kind of dancing shoe. With the shoes themselves, you'll also get an original pouch bag for travel, and a shoe bag for traveling. Also, you will receive a shoe brush that you can use to give your dancing shoes a new shine at any time!
These shoes are also a good fit if comfort is your most important criteria and if you know you'll be dancing for many hours regularly. While the other shoes on this list are very comfortable, these shoes optimize for comfort.
Mens Ballroom Dance Shoes for Latin Ballroom
DKZSYIM Men's Black Leather Professional Latin Ballroom Dance Shoes
As a classic latin shoe, it has a higher heel and a more pronounced arch that will elevate every move. If you aren't used to a heel, it will take some time to adjust, but you'll be surprised how big of a difference this latin style shoe makes on your moves.
One of its other main attractions is the well-designed bottom made of suede. In other words – this is one shoe that you don't have to be worried about slipping with on any kind of surface.
Apart from that, you should know that the heel is pretty durable. That's important because this is the first part to go out on these types of shoes; but you know you can rely on it with this one for a long time. Also, the leather is of a superbly high quality – giving you a sense of style to go along with the comfort you will feel.
Very Fine Ballroom Dance Shoes
If you're someone who's looking for a quality men's ballroom dance shoes, you won't go wrong with this model either. Regardless of whether you're a fan of salsa or tango – you will find this model designed as well as you'd want. This design also comes in a classic black and white wingtip style.
For one, it's got a sole made of non-slip suede, providing you with the maximum freedom of movement a piece of footwear could on the dancefloor.
Speaking of which – the outer sole is also made out of extremely soft suede, ensuring that you barely feel you've got any shoes on at all. Plus, the insole has cushioning that's intended to give you maximum comfort, but also absorb any shock. This makes the shoe ergonomic enough to suit your joints and prevent you from wearing them out.